Dernière édition déc. 2021
Last edition December 2021
Prochaine édition Octobre 2022
à Genève
Next edition October 2022
in Geneva.
Programme 2022 & informations à venir
Lean Healthcare Summit 2021
Le Lean Healthcare Summit, s'est déroulé les 2 et 3 décembre dernier.
ce fut  deux jours intenses d'apprentissage et de partage sur la transformation managériale des institutions de santé.
Durant ces deux journées, nous avons reçu de nombreux experts du Lean Healthcare, pour nous parler de leur expérience et de projets de transformation qu'ils ont mené dans des institutions de santé. Les deux journées étaient divisées en temps de conférences et tables rondes en plénière, d'ateliers en groupes, et de moments de networking.
The Lean Healthcare Transformation Summit Europe took place on December 2 and 3. It was two intense days of learning and sharing on the managerial transformation of health institutions.
During these two days, we have welcomed many Lean Healthcare experts to share their experience and talk about transformation projects they led in health institutions.
The two days were divided into time for keynotes and round tables, group workshops and networking.
Cette année, nous avons adapté le Lean Healthcare Summit au contexte de la crise sanitaire toujours présente, c'est pour cela que nous pouvons vous proposer aujourd'hui les replay de l'ensemble des Keynote et ateliers.
des participants recommandent le Lean Healthcare Summit !
This year, we have adapted the Lean Healthcare Summit to the context of the ever-present health crisis, which is why today we can offer you the replay of all keynotes and workshops.
of participants recommend the Lean Healthcare Summit!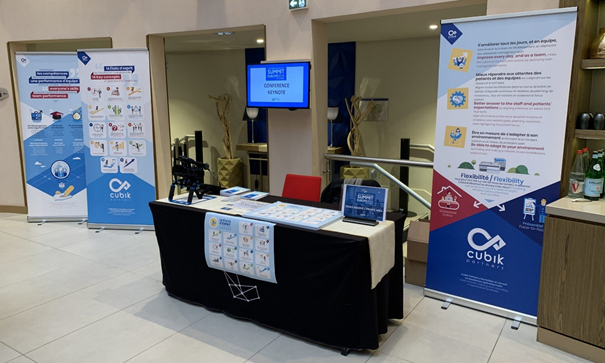 Vous avez été nombreux à nous faire des retours sur votre expérience lors du congrès.
Ce qu'on en retient :
Le contenu des conférences et ateliers était pertinent et concret
L'expérience partagée par les experts vous encouragent à passer à l'action sur vos projets
Vous avez aimé échanger avec les intervenants, experts et autres participants lors de ces journées.
Many of you gave us feedback on your experience at the congress. Here is what we remember:
The content of keynotes and workshops was relevant and tangible
The experience the experts shared motivates you to move into action on your projects
You enjoyed exchanging with the speakers, experts, and other participants during these days
PROGRAMME : Tarif Replay 2021
15 heures de conférences en français et en Anglais
550€ TTC
Vous n'avez pas participé au Summit vous pouvez acheter les replay en complétant le formulaire ci-dessous : 15 heures de conférence
Version Anglaise ou version Française 550€TTC.
Règlement par Carte bancaire
PROGRAM: Replay rate 2021
15 hours of lectures in French and English
550€ INCL. VAT
If you have not attended to the Summit, you can buy the replay by completing this form: 15 hours of conferences
French or English Version: 550€ TTC 
Payment by credit card
COMITE SCIENTIFIQUE / SCIENTIFIC COMMITTEE
John Toussaint
Président de Catalysis
Chairman of Catalysis
Patrick De Coster
Ancien directeur de CHU et Professeur émérite UCLouvain
Former director of CHU and professor
emeritus UCLouvain
Pascal Corond
Directeur de la Performance et du Contrôle de Gestion des Hospices Civils de Lyon
Director of Performance and Management Control,
Hospices Civils de Lyon
Kim Barnas
Directrice générale de Catalysis
Chief Executive Officer of Catalysis
Ariane Bouzette
Experte en Amélioration Continue
Expert in Continuous Improvement
1 DECEMBRE 2021
DECEMBER 1, 2021 PM
GEMBA : Visite des pratiques Lean
Hospices Civils de Lyon
GEMBA: Visit of Lean practices
Hospices Civils de Lyon
2 DECEMBRE 2021
DECEMBER 2, 2021
Programme mixte conférence, plénière, étude de cas et partage d'expériences interactifs
Mixed program of lecture, plenary, case study and interactive experience sharing
3 DECEMBRE 2021
DECEMBER 3, 2021
Apprentissage et partage de la transformation managériale des institutions de soins
Learning and sharing the managerial transformation of care institutions
Votre santé, notre priorité
Selon les directives gouvernementales, il vous sera demandé à l'entrée du Congrès un passe sanitaire (certificat européen de vaccination ou test PCR négatif de moins de 48 heures).
Your health, our priority
According to the governmental directives, you will be asked at the entrance of the Congress for a health pass (european certificate of vaccination or negative PCR test less than 48 hours old).
TARIFS DU CONGRES 2022 / 2022 CONGRESS RATES
950 € – Congrès / Congress
Le tarif inclut la participation aux 2 jours de congrès, cafés d'accueil, pauses et déjeuner.
Le tarif inclut la participation au diner (sur inscription, places limitées).
Tarif groupé à partir du 5e participants = 850€ TTC
Tarif groupé à partir du 10e participants = 750€  TTC
The fee includes participation in the 2-day conference, welcome coffee, breaks and lunch.
The rate includes participation in the dinner (on registration, limited places).
Group rate from the 5th participant = 850€ TTC
Group rate from the 10th participant = 750€ TTC
Visite terrain (1/2 journée)
Organisme de formation agréé
N° d'agrément  11 75 53491 75


Accredited training organization
Approval No. 11 75 53491 75
OUVERTURES PROCHAINES DES INSCRIPTIONS 2022
UPCOMING REGISTRATION OPENINGS 2022
Besoin d'information ? / Need information?